RACING ESTA SEMANA
CARACTERISTICAS
SERVICIOS
FDD Going Grand, ganador de grado 3 y padre de ganadores de carreras de grado, estará la temporada 2022 en WestWin Farms en Purcell, Oklahoma.

© Mark Herron / TRACK Magazine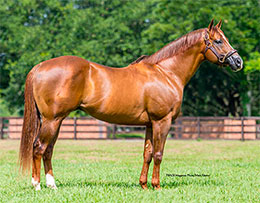 Padre de Ganadores de Carreras de Grado FDD Going Grand a Oklahoma para 2022
PURCELL, OK — 10 DE NOVIEMBRE DE 2021—
El padre ganador de carreras de grado
FDD Going Grand
SI 112 estará la temporada 2022 en
WestWin Farms
en Purcell, Oklahoma. Su tarifa se ha fijado en $3,000 con consideración.
Propiedad y criado por Mercy Hinklin Horse Farm, FDD Going Grand es un ganador de múltiples clásicos de grado 3 e hijo establecedor de récord de pista del padre campeón mundial FDD Dynasty.
De un número limitado de arrancadores en cinco camadas a correr, FDD Going Grand ha engendrado 28 ganadores, 6 de tipo negro (11%), con ingresos de más de $1 millón y ganancias promedio por arrancador de más de $22,800.
Whatahistoric Moment, con el jinete Everardo Rodríguez, ganando el Old South Futurity de $151,255 en Delta Downs.
© Fotografía Coady
Los mejores artistas de
FDD Going Grand
incluyen Whatahistoric Moment SI 105 (4 victorias a 3, $158,552 Old South Futurity, 2o-Firecracker Futurity-G2, etc.), Da Devil Made Medoit SI 107 (5 victorias a 3, $151,708 Retama Park Derby , etc.), Going Noble SI 102 (2 victorias a 2, $109,541 Harrah's Futurity-G3, etc.), The Grand Legend SI 97 (4 victorias a 5, $76,813 Heritage Place Juvenile, etc.), The Most High Rules SI 96 (2 victorias a 3, $60,339), Tdz Going Nuts SI 99 (3 victorias a 4, $47,482), etc.
En la pista de carreras, FDD Going Grand ganó o colocó en 15 de 17 salidas en su carrera y ganó $197,510. Ganó el Develop A Plan Stakes, Old South Derby y Evangeline Downs Dash Stakes. Fue segundo en el Dash For Cash Futurity (G1), Firecracker Derby, Gentilly Dash y Sam's Town Stakes.
Estableció un nuevo récord de pista en Evangeline Downs Dash Stakes a 220 yardas en: 11.530 segundos.
FDD Going Grand es hijo de la yegua productora de ganadores de clásicos, hija de Corona Cartel, Cash Cartel, madre de 14 ROM de 15 arrancadores, 12 ganadores, 4 tipo negro incluido el ganador de G3 FDD Going Grand SI 112 (ver arriba), Prairie Meadow Distaff Challenge (G3) ganador Apollitical Mogul SI 103 ($205,729 t 5, 2021), TQHA Sale Futurity (RG2) ganador Cash Flow Cartel SI 104 ($191,744), Clever Seis Cartel SI 97 colocado en G3 ($68,021), Finalista G3 Cash N Fdd Dynasty SI 98 ($55,178), etc.
La abuela es la yegua ganadora y productora de ganadores de clásicos, hija de Dash For Cash, Maid For Cash SI 96 ($26,442), madre de 8 ganadores de ROM de 8 arrancadores, incluido el ganador de G3 La Jolla Maid SI 95 ($73,817), Foldin Cash SI 102 colocado en clásicos ($17,115), etc. La bisabuela es la ganadora de clásicos Holme Maid SI 102, ganadora de 8 carreras, $231,019. Ganó el Three Bars Handicap de 1979 en Ruidoso, fue segunda en el Rainbow Derby y finalista en el All American Derby.
Para obtener información adicional o contratos de reproducción con FDD Going Grand, comuníquese con Shawn Lindsey, gerente de la granja, al (405) 238-0639.