RACING ESTA SEMANA
CARACTERISTICAS
SERVICIOS
El Potro Entero Campeón 2 Añero, A Revenant obtuvo su primer ganador de clásicos en Remington Park el Sábado por la noche.

© TRACK Magazine / Mark Herron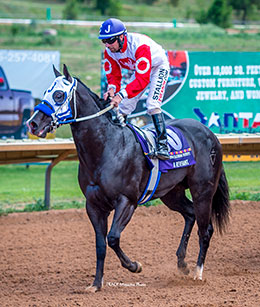 Campeón A Revenant Obtiene Primer Ganador de Clásicos
DALLAS, TX — 23 DE MARZO DE 2021—
El potro entero, A Revenant, Campeón de Carreras AQHA 2 Añero, obtuvo su primer ganador de clásicos el Sábado cuando Revenant Moon ganó el $477,200 Grado 2, Oklahoma Futurity en Remington Park.
La potra 2 añera llegó a la final como la clasificada más rápida de las 14 carreras de prueba que se disputaron el 8 de Marzo.
Corriendo para los propietarios Trey Odom, Scott Bryant y Norman Allen, la graduada por $20,000 en la Venta Selecta de Añales de Ruidoso ganó $190,880 por su victoria. Con un récord perfecto 2 por 2, entrenada por Trey Wood completó las 300 yardas en: 15.397 sobre una pista rápida como la favorita en apuestas con probabilidades de 3-5, obteniendo un índice de velocidad de 90. Terminó por cuello delante de Hock It to You, que estaba por un cuerpo y cuarto delante del tercer clasificado, Shy Kisser.
Revenant Moon (Número 2), derrota a Hock It To You (Número 5) por cuello en el Grado 2, $477,200 Oklahoma Futurity el Sábado en Remington Park.
© Fotografía Dustin Orona
Revenant Moon fue criado en Nuevo México por Dosi y Norma Alvarez de la yegua hija de
FDD Dynasty
, Sochi Moon. El jinete José Álvarez estaba en la silla para el ganador tanto en su prueba como en la final de Futurity.
A Revenant es actualmente el Padre Líder de 2 Añeros Ganadores de Dinero y el Padre Líder en Primera Camada de Ganadores de Dinero para 2021.
De solo tres arrancadores esta temporada, A Revenant tiene dos ganadores, 1 ganador de clásicos y 1 colocado en clásicos con ganancias de $243,388. Sus ganancias promedio por arrancador son $81,129. También es el padre de Revenant Dynasty, quien terminó quinto en el Oklahoma Futurity (G2) y ganó $33,304, así como Aint Done Yet, quien terminó tercero en el Oklahoma Juvenile Stakes ganando $5,500.
A Revenant ganó tres de cuatro salidas en 2 y ganó $604,800. Ganó el Rainbow Futurity (G1) y también fue segundo en el Ruidoso Futurity (G1). El hijo del padre líder Mr Jess Perry es hijo de la yegua hija de Mr Eye Opener, Thewayyouwantmetoo.
Criado por Julianna Hawn Hold, A Revenant se vendió en la Venta Selecta de Añales de Ruidoso 2015 por $152,000. Corrió para la asociación de Johnny Cope, RD Hubbard, Rafter W Stables y Henry Southway.
Se paró en Crystal Springs Farms de Hubbard en Tularosa, Nuevo México, luego en 6666 Ranch en Guthrie, Texas antes de su fallecimiento en Agosto de 2019 luego de una batalla prolongada contra laminitis.