RACING ESTA SEMANA
CARACTERISTICAS
SERVICIOS
Paramounte estará su primera temporada en Comanche Veterinary Hospital en Kiowa Colorado.

© Comanche Veterinary Hospital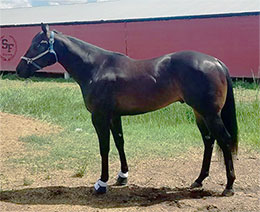 Hijo Colocado en Clásicos de Favorite Cartel a Colorado
KIOWA, CO — 17 DE FEBRERO DE 2021—
Paramounte
SI 94, un hijo colocado en clásicos del padre lider
Favorite Cartel
, se ha retirado de las carreras y estará su primera temporada en
Comanche Veterinary Hospital
en Kiowa Colorado. Su tarifa se ha fijado en $1,000 más los gastos de envío.
Propiedad de Rivera Quarter Horse Racing Inc., Paramounte ganó o colocó en cinco de nueve salidas en su carrera a 3, ganando $40,228. Fue segundo en el Rocky Mountain Futurity y finalista en el All American Juvenile 2019 en Ruidoso Downs.
Su padre, el ganador de Grado 1 Favorite Cartel SI 104 ($607,669) fue el padre líder de ganadores de dinero en 2020. De solo siete camadas a correr, ha engendrado 71 ganadores de clásicos, 3 campeones, 414 ganadores y ha ganado $23,403,042.
Paramounte, bajo el mando del jinete Mauro Salcedo, calificó para el All American Juvenile Invitational de $200,000, luego de ganar su prueba All American por 1 cuerpo y ½ en Ruidoso Downs.
© Jake Rogers / Ruidoso Downs
Sus mejores artistas incluyen Cartel Jess Rockin SI 96 (campeón, a 3, 2020, $849,101, Los Alamitos 2 Million Futurity-G1, etc.),
Tell Cartel
SI 105 (campeón dos veces, a 3, 2020, $796,386, Los Alamitos Super Derby -G1, etc.),
Tarzanito
SI 102 (campeón, $429,657, Go Man Go H.-G1, etc.), Powerful Favorite SI 102 (a 5, 2021, $960,877, Los Alamitos Winter Derby-G1, etc.), Lotta Blues Man SI 94 ($935,399, Golden State Million Futurity-G1, etc.), etc.
La madre de Paramounte es ganadora del Grado 1 Retama Park Futurity, Jess Genuine SI 102 ($196,175) hija del Padre Lider de yeguas de cría, Mr Jess Perry. Ella es la madre de 14 ganadores, 20, ROM, 8 tipo negro, incluyendo el subcampeón del Los Alamitos Two Million Futurity (G1) The August Heat SI 93 ($424,996), Oceanik SI 93 colocado en Grado 1 ($151,143), Grado 2- colocado Bogart SI 98 ($110,373), Undaunted SI 95 ($ 108,978) colocado en clásicos, Paramounte SI 94 colocado en clásicos (ver arriba), Azoomin With Jessie SI 108 colocado en grado 2 ($31,266), Howbad Do Youwantit SI 94 colocado en clásicos (MEX), finalista en múltiples Grado 1 Bovet SI 95 ($64,411), etc.
Jess Genuine también es la abuela del ganador de clásicos Rappid SI 95 ($125,605) Azoomin Jamie SI 98 ($101,252) y Miromar SI 102 ($34,098), entre otros.
La bisabuela, finalista en Grado 1 Genuine Reward hija de First Down Dash, es hermana de colocada en clásicos Fabulous Results- SI 98 ($15,653) y media hermana del ganador de clásicos Dashin Dee Dee SI 105 ($266,453), y Susies Girl Sally SI 104 ($145,791), etc. Genuine Reward es la madre de Genuine Botticelli SI 97 colocada en Grado 1 ($164,182) y Special Rewards SI 94 colocado en Grado 3 ($11,419), etc.
Para obtener información adicional o contratos de cría, llame a Robin al (303) 621-2054 o (303) 243-6494.