RACING ESTA SEMANA
CARACTERISTICAS
SERVICIOS
El Campeón Duponte estará en la temporada 2020 en 6666 Ranch cerca de Guthrie, Texas.

© Bee Silva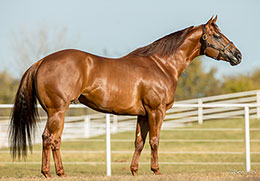 Duponte Ganador Grado 1 A 6666 Ranch En 2020
GUTHRIE, TX —30 DE SEPTIEMBRE DE 2019—
El ganador grado 1
Duponte
SI 96, de Bobbie D. Cox, Homero y Kristen Paredes estara la temporada 2020 en
6666 Ranch
en Guthrie, Texas. Su tarifa seguirá siendo de $3,500 con la consideración a yeguas clasificadas y productoras de corredores clasificados.
Sus primeros potros serán añales en 2020.
Duponte ganó o se colocó en 10 de 16 salidas de carrera y ganó $921,237. Ganó el Grado 1, Heritage Place Futurity y Harrah's Entertainment Futurity (G3) en 2 y fue segundo en el Dash For Cash Futurity (G2).
Duponte
regresa después de ganar el Heritage Place Futurity (G1) de $1,083,420 en Remington Park.
© Plugged In Marketing
A los 3 años,
Duponte
fue tercero en el All American Derby (G1) y finalista en el Rainbow Derby (G1), el Texas Classic Derby (G1) y el Heritage Place Derby (G1).
Su padre es el dos veces campeón de carreras de AQHA, American Runaway SI 103 ($686,355), quien murió repentinamente después de su primera temporada como stud. Desde titulares limitados en solo cuatro camadas ha correr, es el padre de 38 ROM, 3 ganadores de clásicos, 1 campeón con ganancias de más de $2 millones de dólares incluyendo Duponte SI 96 (ver arriba), ganador Grado 2, Careless Lightning SI 103 ($166,193), Katharsis, ganadora de clásicos SI 98 ($127,622), finalista del Evangeline Downs Futurity, Accountably SI 93 ($94,364 a 4), American Girl Rocks SI 90 ($49,183), etc.
Un criado en casa para Bobby D. Cox, Duponte fue el primer potro de la yegua por Ivory James, Havannah Goodtime. Es madre de 3 ganadores Grado 1 de solo 3 titulares, incluido el ganador de Heritage Place Futurity (G1) en 2017, Nymeria SI 92 ($495,042 a 2), y el ganador de Heritage Place Futurity (G1) 2018 Sunnysyde SI 102 ($ 434,147 a 2).
Duponte _HEF.jpg '>
Duponte
ganando el Grado 3 Harrah's Entertainment Futurity en Louisiana Downs.
© Lou Hodges Photography
La segunda madre, Jess Celebrating, por el padre principal de la cría
Mr.Jess Perry
es media hermana del campeón de carreras AQHA, Brimmerton SI 103 ($519,538), ganador Grado 1, Gone Celebrating SI 109 ($364,068), ganador de clásicos, Mitford SI 109 ($121,514), etc.
Duponte _TCDT.jpg '>
Duponte
estableciendo el tiempo de calificación más rápido para el Texas Classic Derby (G1) de $385,355 el 20 de Octubre de 2017.
© Duston Orona Photography
La tercera madre es la ganadora Grado 2 y la antigua
Broodmare of the Year
SI 110 ($47,775) de Ronas Ryon. Ella es la madre de 10 ganadores, cuatro corredores de clásicos (ver arriba).
Esta es la familia inmediata de corredores de clásicos como Champion Wahoo SI 102 ($166,425), ganador RG1 Sin tarifas SI 93 ($166,320), ganador G3 So Rapido SI 98 ($122,417 a 3, 2017), ganador Grado 3, Interesting Man SI 97 ( $140,810), ganador RG3, First Sweet Midnite Si 103 ($149,798 a 4, 2017), Sinuous SI 99 ($105,956), etc.
Para obtener información adicional o contratos de reproducción, llame al 6666 Ranch al 855-674-6773.