RACING ESTA SEMANA
CARACTERISTICAS
SERVICIOS
El ganador de clásicos, Rip Tide, tendrá su primera temporada en 2020 en Tate Farms, cerca de Ville Platte, Louisiana, por una tarifa de $2,000 con consideración.

© Donna Weeks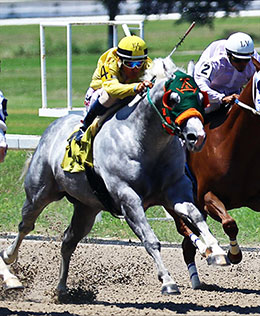 El Hijo Ganador de Clásicos de Corona Crtel, Rip Tide a Tate Farms Para 2020
VILLE PLATTE, LA —25 DE SEPTIEMBRE DE 2019—
Rip Tide
SI 107, un hermano completo ganador de clásicos del ganador del Rainbow Futurity (G1) 2019, Uncle D, tendrá su primera temporada en 2020 en
Tate Farms
cerca de Ville Platte, Louisiana. Su tarifa se ha establecido en $2,000 con consideración.
El hijo del padre líder Corona Cartel, ganó o colocó en 16 de 20 comienzos de su carrera y ganó $123,283. Ganó el Par-A-Dice Stakes en Delta Downs este año, completando las 330 yardas en: 16.362 segundos, simplemente perdiendo el récord de la pista mientras igualaba un índice de velocidad 107.
Rip Tide fue segundo en el Mr Jess Perry Derby en Ruidoso Downs y Esplanade Stakes en el Fair Grounds Race Course, y finalista en el Grado 1, Los Alamitos Super Derby, Grado 1 Vessels Maturity y Z Wayne Griffin Director's Invitational-Div.1 .
Su padre, Corona Cartel SI 107 ($557,142), el padre número 2 de los principales ganadores de dinero, ha engendrado 177 ganadores de clásicos, 9 campeones con ganancias superiores a $62.3 millones de dólares. Sus mejores crías incluyen Blues Girl Too SI 104 (World Champion Racing American QH, $2,032,328, Los Alamitos Two Million Futurity-G1, etc.), Teller Cartel SI 108 (campeón, $1,212,471, All American Quarter Horse Futurity-G1, etc.) , Five Bar Cartel SI 91 (campeón, $1,068,825, Ed Burke Million Futurity-G1, etc.), Kvn Corona SI 95 (campeón dos veces, $868,077, Ed Burke Million Futurity-G1, etc.), etc.
Rip Tide
, bajo el mando de Everardo Rodríguez, ganó el Par-A-Dice Stakes de $35,000 en Delta Downs el 22 de Junio de 2019.
© Coady Photography
Rip Tide
es una hermana completa del padre principal de Louisiana,
Sir Runaway Dash
, quien murió a principios de este año después de una carrera de sementales muy exitosa en
Tate Farms
.
Rip Tide proviene de una de las principales líneas de producción de hembras en la industria. Su madre, la ganadora de clásicos y el récord de pista desde la yegua por First Down Dash, Little Surfer SI 104 ($102,749), es una campeona hermana de Ocean Runaway SI 105, campeon Wave Carver SI 104, ganadores de clásicos, Wave Her Down SI 95, Trisk SI 102 y Aquafina SI 99, y Sir Runaway Dash SI 97, colocado en clásicos, Trae The Bling SI 97 y Seaside SI 90.
Little Surfer es la madre de 17 ROM, 14 ganadores, tres tipos negros, incluido el ganador del Rainbow Futurity (G1) 2019, Uncle D SI 96 (4 victorias en 6 salidas, $682,965 en 2), Rip Tide SI 107 (ganador de clásicos), Grado -1 colocado Call Me Cole SI 93 ($298,122), finalista de Heritage Place Futurity (G1) Corona Surfer ($37,944 en 2), etc. Todos son hermanos completos de Rip Tide .
Rip Tide
, bajo el mando de Jimmy Brooks, ganó su juicio para el Rainbow Derby de Grado 1 en Ruidoso Downs.
© Ruidoso Downs / Gay Harris
La segunda madre, Grado 2 Runaway Wave SI 105 ($79,183), por Runaway Winner, es una antigua
Broodmare of the Year
y es la madre de 30 ganadores, 13 de tipo negro, 2 campeones, incluido el campeón / campeón padre
Ocean Runaway
SI 105 ($1,642,498 ), campeón mundial / padre de campeones Wave Carver SI 104 ($1,005,946), ganador de Ed Burke Million Futurity (G1) Wave Her Down SI 95 ($436,415 a 3, 2019), ganador del Southern California Derby (G1) Trisk SI 102 ($254,233), Ganador del Los Alamitos Derby Challenge, Aquafina SI 99 ($186,336), ganador del Lone Star Distaff (G3) Little Surfer SI 104 (ver arriba), ganador de múltiples clásicos, The Ocean King SI 105 ($96,830), ganador de clásicos, Whip Curl SI 96 ($ 24,853),
Sir Runaway Dash
SI 97 ($120,706), padre de Louisiana Grado 1, Bring The Bling SI 97 ($67,320), Seaside SI 90 ($38,296) y Rleeway Preslee.
Runaway Wave es también la abuela o bisabuela de numerosos ganadores de clásicos, incluyendo Aqua Flash SI 96 ($204,518), Justified Si 102 ($95,630), Corona Springs SI 106 ($93,963), Seaduction SI 91 ($59,383 a 2), Why SI 89 ($44,657 a las 2, 2019), etc.
Para obtener información adicional o contratos de reproducción, llame a Stephen Tate, Gerente de la granja al 337-658-8283.