RACING ESTA SEMANA
CARACTERISTICAS
SERVICIOS
Reagal Eagle califica para el Rainbow Futurity en 2013 en Ruidoso Downs.

© Gay Harris / Ruidoso Downs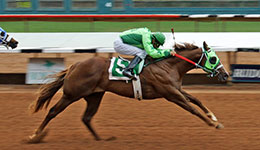 Reagal Eagle Obtiene Primer Ganador de Clásicos
SHAWNEE, OK: 2 de Septiembre de 2019
El padre de segunda camada,
Reagal Eagle
SI 105, obtuvo su primer ganador de clasicos el Domingo (1 de Septiembre) cuando Survivour ganó el Jimenez Tile-GM Racing Stakes de $23,275 en Arizona Downs.
Bajo las hábiles manos del jinete Emilio Tapia, Survivour completó las 400 yardas en: 19.905 segundos, igualando un 107 en índice de velocidades con un viento de 12 mph. Fue la segunda victoria en cinco salidas para el hijo de Reagal Eagle .
Propiedad y entrenado por Rigoberto Guillén, Survivour también calificó para el Granite Mountain QH Futurity y el John Deere Turf Paradise Juvenile Challenge a principios de este año. Recogió $12,801 hoy para llevar la marca de ganancias a $16,174. By By JJ Limited Partnership crió el potro alazán en Nuevo México desde la yegua Banking Disco, por Strait To The Bank.
Survivour, bajo el mando de Emilio Tapia, ganó el Jimenez Tile / GM Racing Stakes de $23,275 el Domingo en Arizona Downs.
© Fotografía Coady
De un número limitado de principiantes en dos camadas para alcanzar la edad de carrera,
Reagal Eagle
ha engendrado un ganador de clásicos y dos colocadas en clásicos. Actualmente es el número 10 de los principales ganadores de dinero de segunda camada para 2019 con solo 18 titulares.
Sus mejores resultados incluyen Survivour SI 107 (2 victorias a 2, 2019, $16,174, Jimenez Tile-GM Racing Stakes), Six Packin Eagle SI 90 ($13,660 a 3 2019, 3rd All American Congress Futurity), Reagal Eagle Revenge SI 95 (ganador a 2, 2019, $7,058 3er Ron Cook Wyoming Bred Futurity), Regal Candy SI 84 (2 victorias a 3, 2019 $20,560), etc.
Propiedad de Peterson Stallion Farm LLC, el hijo del padre principal One Famous Eagle ganó o se colocó en seis de las 10 salidas de su carrera, ganando $467,790. Fue segundo en el All American Futurity (G1) y finalista en el Grado 1 Rainbow Futurity, Corona Cartel Stakes y West Texas Juvenile Invitational.
Reagal Eagle resistirá la temporada de reproducción 2020 en Joneson Ranch en Shawnee, Oklahoma. Su tarifa se ha establecido en $1,250. Varias yeguas y yeguas criadas en Oklahoma pueden criar por $1,000.
Para obtener información adicional sobre contratos de reproducción, llame a Richard o Lisa Joneson al 405-275-0824.