RACING ESTA SEMANA
CARACTERISTICAS
SERVICIOS
All American Ruidoso Horse Sales Company mantiene su programa original de ventas de caballos en dos fines de semana separados.

© Ruidoso Downs Race Track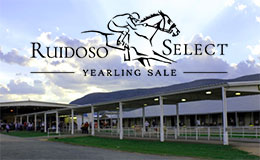 All American Ruidoso Horse Sales Company Mantiene Programa Original Ventas Fines de Semana Separados
RUIDOSO DOWNS, NM — 9 DE MARZO DE 2021—
The All American Ruidoso Horse Sales, LLC, anunció hoy que trasladará sus Ventas de Añales Caballos Cuarto de Milla y Purasangre 2021 Criados en Nuevo México y la Sesión de Crías Selectas en Útero del 20-21 de Agosto para coincidir con el fin de semana de pruebas para el All American.
La tarjeta de carreras de fin de semana es históricamente uno de los fines de semana más emocionantes del año, ya que los Caballos Cuarto de Milla más rápidos del deporte compiten por lugares en las finales del All American Futurity de $3 millones, el All American Derby y el All American Oaks. La venta seguirá inmediatamente al programa de carreras del Viernes y Sábado.
La famosa Venta Selecta de Añales de Ruidoso de crías Caballos Cuarto Americano de 2020 se llevará a cabo como suele ser inmediatamente después de las carreras del 3, 4 y 5 de Septiembre. La Venta Selecta de Añales de Ruidoso vio 29 añales vendidos por $100,000 o más, incluidos cuatro que vendieron por $215,000 o más. El precio promedio de un añal en la venta del año pasado fue un récord histórico de $45,920.
La Venta Selecta de Añales y New Mexico-Bred Sale han sido durante mucho tiempo una fuente de muchos ganadores, incluidos los recientes Stormin The Jewels ($472,000), Mister Riptide ($748,000) y los graduados de Select Sale Flash And Roll ($1,710,00), Rustys Miracle ($762,000), Hotsempting ($662,000), Cyber Monday ($516,000) y Dexxter ($492,000). En los últimos años, se han comprado 17 millonarios diferentes a través de la Venta Selecta.
Los formularios de inscripción para ambas ventas estarán disponibles en RaceRuidoso.com/horse-sales en Abril. La fecha límite de inscripción para la Venta de Añales Criados en Nuevo México es el 1 de Mayo y las entradas de la Venta Selecta de Añales de Ruidoso se deben el 15 de Mayo.
Para obtener más información, comuníquese con Ruidoso Horse Sales por teléfono 575-378-4474, por fax 575-378-4788 o por correo electrónico dreed@raceruidoso.com o wwiggins@raceruidoso.com.