RACING ESTA SEMANA
CARACTERISTICAS
SERVICIOS
All American Ruidoso Horse Sale Company anunció hoy que llevará a cabo las tres ventas de caballos emblemáticos de la compañía durante el fin de semana del Día del Trabajo de 2021.

© Ruidoso Downs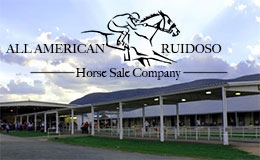 Ruidoso Horse Sales Realizará un Evento de Ventas Único en 2021
RUIDOSO DOWNS, NM — 11 DE ENERO DE 2021—
All American Ruidoso Horse Sale Company ha anunciado que los tres eventos de venta de caballos característicos de la compañía se llevarán a cabo durante el fin de semana del Día del Trabajo en 2021.
La Venta de Añales Caballos Cuarto de Milla y Purasangre Criados en Nuevo México y la Venta de Crías en Útero comenzarán la tarde del 3 de Septiembre y las tardes del 3, 4 y 5 de Septiembre estarán presentes las consignaciones para la Venta de Añales Selecta de Caballos Cuarto de Milla.
"Nuestra venta de añales selectos de 2020 fue una de nuestras ventas más exitosas hasta la fecha, con 315 añales vendidos por un promedio de $45,774", dijo Lowell Neumayer, gerente general de All-American Horse Sale Co. "Tuvimos 29 añales diferentes que trajeron seis cifras precios de venta".
La Venta Selecta de Añales y New Mexico-Bred Sale han sido durante mucho tiempo una fuente de muchos ganadores, incluyendo los recientes Stormin The Jewels ($472,000), Mister Riptide ($748,000) y los graduados de la Venta Selecta Flash And Roll ($1,710,000), Rustys Miracle ($762,000), Hotsempting ($662,000), Cyber Monday ($516,000) y Dexxter ($492,000).
En los últimos años, se han comprado 17 millonarios diferentes a través de la Venta Selecta. Los contratos de venta estarán disponibles en Abril, y la fecha límite de entrada de venta para las ventas de 2021 es el 14 de Mayo. Todos los añales de la Venta Selecta deben ser nominados a la Triple Corona All American 2022 antes del 15 de Enero de 2021.
Para obtener más información, visite RaceRuidoso.com.