RACING ESTA SEMANA
CARACTERISTICAS
SERVICIOS
Joe Rios y Bobby Simmons pagaron $180,000 por el éxito de ventas de la subasta Hip 494 Sixy Brown Eyes, una hija del padre campeón, Tres Seis.

© StallioneSearch / Greg Thompson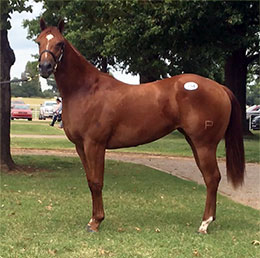 La Subasta de Añales Heritage Place Continúa Con Impulso
OKLAHOMA CITY, OK - 20 DE SEPTIEMBRE DE 2019 -
La venta de añales de Heritage Place en Septiembre continuó su impulso en la sesión de cierre de hoy (Viernes), que vio dos transacciones adicionales de seis cifras.
"Tuvimos un gran final para la venta de Añales hoy,'' dijo el gerente general de Heritage Place, Spence Kidney, el Viernes por la noche. ''La última sesión promedió $22,581, que es 10% más alta que el promedio de ayer. En general, la venta terminó con un aumento del 18% en comparación con el año pasado.''
Heritage Place informó que los 543 caballos vendidos recaudaron en bruto $11,581,600 en la venta de dos días, a un precio promedio de $21,329 y una mediana de $15,500. Los 69 que no se vendieron represento una tasa de ARN del 11%. Diez caballos vendidos por $90,000 y más.
Las comparaciones con la venta de añales de Septiembre de 2018 son difíciles porque la subasta de este año fue reformateada en un evento de dos días. El año pasado se marcaron 642 caballos vendidos por $11,730,900, un promedio de $18,272 y una mediana de $12,250.
"Gracias a todos los compradores y consignatarios y les deseamos a todos la mejor de las suertes con sus compras,'' continuó Kidney. "Tenemos un gran catálogo de añales para ofrecer en la próxima Venta Mixta en el Otoño, con más de 250 para elegir, además de la Sesión Mixta.''
Joe Rios y Bobby Simmons pagaron $180,000 por el éxito de ventas en la sesión del Viernes: Hip 494, Sixy Brown Eyes, una hija del padre campeón Tres Seis consignada por Marty Powers, agente de Flag Ranch LLC. Fuera de la yegua por Mr Eye Opener, Brown Eyes Suze, la potra es una media hermana de la ganadora del West Texas Futurity (G2) Suze Returns y West Texas Futurity (G2) subcampeón, Return Of Brown Eyes.
Cavenaugh Quarter Horse LLC pagó $100,000 por el co-segundo éxito de ventas: Hip 638 Apollitical Redflash del padre líder Apollitical Jess . James Ranch, agente de Rancho El Cabresto, Inc. consignó el potrillo de la ganadora RG3, Chalala por Chicks Beduino. El potro alazán es un tipo completo o medio hermano de tres tipo negro.
La Feliz Montana Ranch LLC compró el co-segundo éxito de ventas, Hip 274 Lethal Glory, por $100,000 el Jueves. Lazy E Ranch , LLC, agente de PK Thomas consignó a la potranca por Volcom desde la productora múltiple de grado 1, Lethal Delight por Dean Miracle.
Rachuan Suárez MVZ fue el principal comprador de la venta con 25 compras que recaudaron $362,800. Alejandro Castaneda pagó $341,800 por 24 cabezas y Cavenaugh Quarter Horses LLC realizó cuatro compras anuales por $275,000.
Bobby D. Cox lideró a todos los consignadores y agentes durante los dos días con 33 cabezas recaudando $895,000. Lazy E Ranch , LLC, Agente tenía 26 cabezas por $690,000 y Marty Powers, Agente de Flag Ranch, LLC vendió 14 cabezas por $582,200.
Apollitical Jess fue el principal padre de ventas (en promedio, dos o más vendidos) con un promedio de 17 añales de $48,175. Corona Cartel tenía nueve por $47,056 y First Down Dash vendió cinco añales por un promedio de $45,600. Jess Good Candy fue el principal padre de ventas de primera camada (en promedio, dos o más vendidos) con 15 por $23,167. Moonin The Eagle tuvo un promedio de seis añales de $23,167.
Para obtener resultados preliminares para ambos días, incluidos los precios hip por hip, HAGA CLIC AQUÍ .