RACING ESTA SEMANA
Additional Challenges

Current Nominees and Sustaining Payments
CARACTERISTICAS
SERVICIOS
Apolinaria Prize, dirigido por el jockey César Moreno (gorra amarilla), derrota a Lil Longmire ( 10) y Scoops Dynasty ( 3) en el John Deere Juvenile Challenge Championship (G2) de $130,625 en Albuquerque Downs.

© Coady Phtography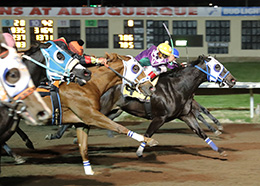 El No Favorito Apolinaria Prize Gana El Gradp 2, John Deere Juvenile Challenge Championship
Q-RACING — 23 DE OCTUBRE DE 2021—
Apolinaria Prize de Juan Manuel Márquez, una apuesta arriesgada de 8-1 en un campo de 10 dos añeros, lideró en cada llamada en camino a una victoria por un cuello en el Campeonato John Deere Juvenile Challenge de $130,625 del Sábado ( G2) en Albuquerque Downs.
Montado por César Moreno para el entrenador José Rosales Gómez, Apolinaria Prize cubrió 350 yardas en: 17.298 mientras registraba un índice de velocidad de 96. La hija del semental Fast Prize Cartel por Corona Cartel también acumuló $60,087 de la segunda victoria de su carrera y de la primera victoria clasificada.
Apolinaria Prize fue criado en California por EG High Desert Farms LLC de Enrique González. La potranca es hija de SS Calendar Girl, una hija de 11 años del semental por Fishers Dash, Finding Nemo que ganó el Speedhorse Derby (G3) 2013 en Fair Meadows en Tulsa.
El miembro de AQHA EC, Jeff Tebow y AQHA CRO Janet VanBebber presentan a las conexiones ganadoras de Apolinaria Prize, el trofeo del Campeonato del John Deere Juvenile Challenge Championship el Sábado por la noche en The Downs en Albuquerque.
© Fotografía Coady
Su segunda madre, la yegua por
Mr Jess Perry
First Prize Robin, ganó el '06 Remington Park Futurity (G1).
Competida en tres estados, incluidos Oregon y Washington, Apolinaria Prize ha ganado cuatro de seis salidas, incluido el 22 de Agosto, el John Deere Emerald Downs Juvenile Challenge de $51,000, y ha ganado $98,925.
Lil Longmire, hija del principal padre de primera generación A Revenant , quedó en segundo lugar por detrás del propietario Ben Peterson y la entrenadora Riley Moosman. Criado por Spencer Peterson, desde la yegua por Carters Cartel, Dee Zired, Lil Longmire recogió $21,125 para duplicar sus fondos a $53,045. Jesús Valenzuela tuvo la llamada de montar a bordo de la potranca criada en Utah.
Monty Arrossa entrenó a Scoops Dynasty y terminó un pico atras en el final de la manta para recoger $13,063 por el tercer lugar. Edward McNelis y Von Zee McNelis son los propietarios-criadores del hijo castrado de FDD Dynasty criado en Idaho, desde Bye Sweet Girl por Dashin Bye. Scoops Dynasty ha ganado $39,238 en cuatro salidas en su carrera. José Nicasio tenía la llamada de montar.
Here Comes Candy, Awesome View, De Laurentis, Kas Shes EC, Deutsch, Fly Donna Fly y Viva Le Zoom completaron el campo.
* * * * * * *
Busque la cobertura completa de los Campeonatos Challenge Bank of America en el sitio web de AQHA y en las redes sociales de carreras .