RACING ESTA SEMANA
Additional Challenges

Current Nominees and Sustaining Payments
CARACTERISTICAS
SERVICIOS
JC Wild King, bajo el mando del jockey campeonJames Flores, ganó el Adequan Derby Challenge Championship (G3) de $154,750 en Albuquerque Downs el Sábado.

© Coady Photography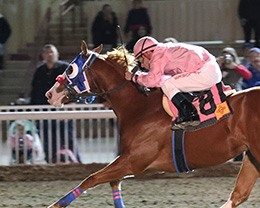 JC Wild King Gana El Grado 3, Adequan Derby Challenge Championship de $154,750 el Sábado
Q-RACING — 23 DE OCTUBRE DE 2021—
JC Wild King de José Cervantes, un bayo criado en casa del campeón mundial
Apollitical Jess
, ganó el Adequan Derby Challenge Championship (G3) en 400 yardas y de $154,750 para 3 añeros en Albuquerque Downs.
Preparado por Fidencio Jiménez y enviado a la publicación como la segunda opción 5-2, JC Wild King derrotó al favorito 2-1, Bad Monkey por 1 cuerpo y 1/4 mientras lideraba en cada llamada. James Flores montó el caballo castrado alazán.
JC Wild King venía de una victoria por medio cuerpo de principio a fin como el favorito en el Adequan Will Rogers Derby Challenge Stakes de $50,000 el 3 de Octubre. El caballo castrado fue criado en Oklahoma, y es hijo de Oh Cherokee Rose, una hija ganadora de clásicos del campeón Stoli que corrió tercero en el 2007 Remington Park Futurity (G1).
Las conexiones ganadoras de Jc Wild King aceptan el trofeo del campeonato Adequan Derby Challenge el Sábado por la noche en
The Downs en Albuquerque.
© Fotografía Coady
Compitiendo en dos estados, JC Wild King ha ganado cinco de las 12 salidas, incluido el Speedhorse Derby de 350 yardas del 24 de Julio en Fair Meadows en Tulsa, y la participación del ganador de $71,185 en la bolsa de su cuarto puntaje clasificado aumentó sus ganancias hasta $174,605.
El castrado terminó su campaña de 2 años con un segundo lugar, un cuello detrás del ganador Bad Monkey, en el John Deere Juvenile Challenge Championship (G2) de 350 yardas y $126,000 en Albuquerque Downs.
Bad Monkey, ganador del John Deere Juvenile Challenge Championship (G2) del año pasado ganó $30,950 por el segundo. Bad Monkey, entrenado y criado por Dean Frey, es un hijo ganador de múltiples clásicos de Capo de Capi desde la yegua por Mr Eye Opener, Girls Eye Too. Benito Baca montó a la fuente de ingresos criada en California de más de $201,700.
Tom Maher, Paul Luedemann y Apollitical Hero de Dick Tobin terminaron medio cuerpo atrás para ganar $15,475 por el tercer lugar. El entrenador Jason Olmstead nombró al jockey Edwin Escobedo para montar al hijo criado en Oklahoma del padre líder Apollitical Jess desde la yegua por Valiant Hero Belle Of Valor. Criado por Canadian River QH LLC, Apollitical Hero ha ganado $62,450 en 17 carreras iniciadas.
The Prize Ferarri, Painted Snowclouds, FDD Princess, Seattle Cartel, Jet Wings One, Fortunes Wild Blood y Rowdysvision completaron el orden de llegada.
* * * * * * *
Busque la cobertura completa de los Campeonatos Challenge Bank of America en el sitio web de AQHA y en las redes sociales de carreras .