RACING ESTA SEMANA
Additional Challenges

Current Nominees and Sustaining Payments
CARACTERISTICAS
SERVICIOS
Campeon, CERs Final Try es uno de los ocho corredores de edad inscritos en el Bank of America Oklahoma Championship Challenge (G2) de 440 yardas y $60,000 del Sábado en Remington Park.

© Coady Photography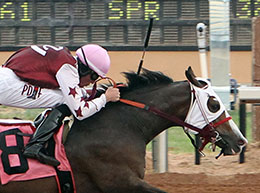 Ocho Inscritos En Bank of America Oklahoma Challenge
POR MICHAEL CUSORTELLI
OKLAHOMA CITY, OK — 25 DE MARZO DE 2021— CERs Final Try de Christina D. Robinson, campeón 3 añero castrado del año pasado, es uno de los ocho corredores inscritos en el Bank of America Oklahoma Challenge en 440 yardas y de $60,000 el Sábado ( G2) en Remington Park.
Un caballo castrado One Dashing Eagle de 4 años entrenado por Tony Sedillo, CERs Final Try hizo su debut en la temporada con una victoria de un cuerpo en una carrera en 300 yardas de $26,000 en condiciones abiertas en Remington Park el 11 de Marzo. CERs Final Try ganó $581,182 en siete salidas en Nuevo México el año pasado, y sus cuatro victorias incluyeron una victoria por cabeza en el Rainbow Derby (G1) de 440 yardas y $710,000 en Ruidoso Downs.
CERs Final Try ha ganado tres de sus siete salidas en la clásica distancia de 440 yardas. El castrado arrancara desde la puerta 3 y será montado por Esgar Ramírez.
Valiant Tiberias ganó dos clásicos la temporada pasada para los dueños Sergio Holguin, Cliften Nielsen y Felix Rodríguez. Un hijo de 5 años de Valiant Hero entrenado por Marco Adair Chavez-Gutierrez, el castrado terminó su campaña de 4 años con una victoria por cabeza en las 440 yardas del Refrigerator Stakes (G1) de $200,000 en Lone Star Park el 25 de Octubre.
Valiant Tiberias ha ganado dos de nueve salidas en 440. El castrado arrancara desde la puerta 5 y será montado por James Flores.
La alineación completa, en orden posterior a la posición, incluidas las asignaciones de jockey:
Charlies Fury (Agustin Silva)
Uncle Eds Idea (Sergio G. Dominguez)
CERs Final Try (Esgar Ramirez)
Singin In The Choir (Noe Garcia Jr.)
Valiant Tiberias (James Flores)
Oatman Creek Senator (Raul Ramirez Jr.)
Mi Amor Secreto (Juan Pulido)
Shockinglyfamous (Jimmy D. Brooks)
Todas las carreras de Remington Park se pueden ver en Q-RacingVideo.com .