RACING ESTA SEMANA
Additional Challenges

Current Nominees and Sustaining Payments
CARACTERISTICAS
SERVICIOS
El Bank of America Challenge Championships regresará por tercer año consecutivo a The Downs en Albuquerque en 2021.

© Coady Photography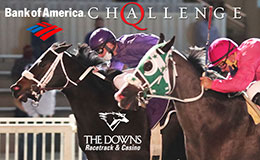 Bank of America Challenge Championships Permanecerán en The Downs en Albuquerque en 2021
Q RACING — 26 DE OCTUBRE DE 2020—
El Bank of America Challenge Championships es un fin de semana de celebración para los caballistas. Cuenta con una lista completa de los mejores Caballos de Carreras Cuarto Americano que luchan en la pista de carreras, combinada con la oportunidad de unas vacaciones de diversión para toda la familia.
The Downs at Albuquerque organizó su primer Bank of America Racing Challenge Championship en 2019, ofreciendo a los asistentes toda la diversión que Albuquerque tiene para ofrecer, incluyendo conciertos, torneos de golf, desfiles de moda y mucho más.
Este año, el evento del Championship regresó al hipódromo el 24 de Octubre, aunque se veía muy diferente debido a la pandemia de COVID-19, con asistencia y actividades limitadas, pero las entradas a la carrera estaban bien respaldadas.
Sin embargo, en 2021, los fanáticos tendrán otra oportunidad para celebrar, ya que los Challenge Championships regresarán a The Downs en Albuquerque y darán a todos la oportunidad de asistir a esta experiencia única. Una amplia gama de actividades volverá a proporcionar diversión para todos.
"Estamos encantados de asociarnos de nuevo con The Downs en Albuquerque para este evento", dijo la directora de carreras Janet VanBebber. "Realmente se han esforzado para brindar un lugar fantástico no solo para nuestros caballistas y caballos que participan en los Challenge Championships, sino también para los fanáticos y asistentes. Este año nos obligó a cambiar nuestros planes, pero planeamos hacerlo bien el próximo año. El clima es cálido, la pista es buena y esperamos volver a nuestro alto nivel de hospitalidad con el Bank of America Challenge Championship 2021''.
La fecha proyectada para el 2021 Bank of America Challenge Championships es el 23 de Octubre, y nuevamente incluirá actividades únicas y la conferencia de carreras.
Se publicará más información una vez que esté disponible en aqha.com/racing.
* * * * * * *
Para conocer las últimas noticias sobre las carreras de Caballos Cuarto Americano, visite aqha.com/racing.
Las noticias e información de AQHA son un servicio de la American Quarter Horse Association. Para obtener más noticias e información, siga a @AQHAnews en Twitter y visite aqha.com/news.