RACING ESTA SEMANA
Additional Challenges

Current Nominees and Sustaining Payments
CARACTERISTICAS
SERVICIOS
La campeona defensora Jess Adalida se enfrentará a otras ocho potras y yeguas en el ARC Lone Star Distaff Challenge de $17,500 el Sábado.

© Coady Photography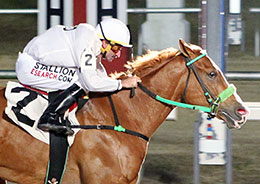 Jess Adalida Encabeza Nueve Entradas en el ARC Lone Star Distaff Challenge el Sábado
GRAND PRAIRIE, TX —30 DE SEPTIEMBRE DE 2019—
Nueve potras y yeguas, encabezadas por Jess Adalida, favorita de 8-5 en la línea de la mañana, han entrado al ARC Lone Star Distaff Challenge a 400 yardas de $17,500 el Sábado en Lone Star Park.
Entrenada por Josue Ponce para el dueño Rubén García Montemayor, Jess Adalida entra a la carrera después de victorias consecutivas en el French Quarter y Selma Stakes. También es la ganadora defensora del Lone Star Distaff Challenge después de publicar una victoria por tres cuerpos en 2018.
La hija alazana del campeón Jess Louisiana Blue ha ganado $170,118 en 17 salidas, y su currículum incluye victorias en el John Deere Retama Juvenile Challenge Stakes en Retama Park a 2.
Jess Adalida saldrá de la posición numero 4 y será montada por Victor Urieta, Jr.
La alineación completa, en orden de posiciones de puertas, incluyendo asignaciones de jinete y probabilidades de la línea de la mañana:
Rvaliant Chick (Martin Felix), 5-2
Lj Moonrise (Francisco Calderon), 5-1
Classy Seis (Francisco Mendez), 20-1
Jess Adalida (Manuel Gutierrez), 8-5
Pamplonna (Ricky Ramirez), 8-1
Alinas War Princess (Noe Villatoro), 12-1
Ym Valentine (James Flores), 15-1
Enid Girl (Nestor Duran), 6-1
Saved By Jesus Jm (Alejandro Zuniga), 20-1
* * * * * * * * * *
El ARC Lone Star Distaff Challenge es una de las 10 carreras Challenge regionales programadas durante todo el año en varios hipódromos de América del Norte. Ofrece puestos automáticos para el Grado 1, $100,000-est. Distaff Challenge Championship, que forma parte del Bank of America Challenge Championships en The Downs en Albuquerque el 26 de Octubre.
El Distaff Challenge es la carrera 11 en la alineación de 12 carreras. El tiempo aproximado de publicación es a las 10:45 p.m.
Todas las carreras de Lone Star Park se pueden ver en Q-RacingVideo.com.