RACING ESTA SEMANA
Additional Challenges

Current Nominees and Sustaining Payments
CARACTERISTICAS
SERVICIOS
Preyn Onthe Mountain, bajo el mando de Jimmy D. Brooks, ganó el ARC Oklahoma Distaff Challenge de $31,229 en Will Rogers el Domingo por la tarde.

© Coady Photography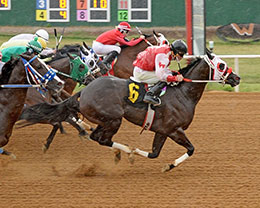 Preyn Onthe Mountain Sorprende en ARC Oklahoma Distaff Challenge
CLAREMORE, OK - 22 DE SEPTIEMBRE DE 2019 - En una convincente victoria de puerta a meta, Preyn Onthe Mountain sorprendió un poco en el ARC Oklahoma Distaff Challenge de $31,229 en Will Rogers el Domingo por la tarde.
Preyn Onthe Mountain ($22.00) y el jockey Jimmy Dean Brooks arrancaron en la cima y mantuvieron una ventaja temprana para ganar por un cuello sobre su compañero 10-1 Df Apollitical Sign en segundo lugar. El tiempo final para la carrera de 400 yardas fue de 19.863, dando al ganador un 96 en índice de velocidades.
Eddie Willis entrena a Preyn Onthe Mountain para el propietario Stetson Hurlbert; El Dr. Steven Hurlburt crió a la potranca en Oklahoma fuera de la yegua Presher por Panther Mountain.
Las conexiones ganadoras de Preyn Onthe Mountain aceptan el trofeo del ARC Oklahoma Distaff Challenge el Domingo en Will Rogers Downs.
© Fotografía Coady
La potranca por Ivory James obtuvo su primera victoria clasificada en la victoria del Distaff Challenge, su noveno inicio de por vida y su segundo esfuerzo entre la compañía clasificada. Ahora tiene tres de nueve de por vida con $65,275 en ganancias profesionales.
Willis también entrena a Df Apollitical Sign, montado por Justine Klaiber para la propietaria Jovetta Meredith. La potranca por Apollitical Jess fue criada en Oklahoma por Beverly Marcom, desde Stolin Sign, por Stoli .
Df Apollitical Sign ahora tiene múltiples clásicos; También fue segunda en el Canterbury Park Derby de 2018.
La favorita a la hora de arranque Tempting Annee Gl, fue tercera con Mario Delgado a bordo. El aprendiz de Rick Robinson es propiedad de Garza Laurel Partnership y fue criada en Texas por Francisco Javier Garza. La hija de 4 años de Tempting Dash está fuera de Grande Annee, por Devon Lane.
Tempting Annee Gl es una ganadora de múltiples clásicos y fue cuarta en el John Deere Juvenile Challenge Championship (G2) en Prairie Meadows en 2017 después de ganar el Will Rogers Juvenile Challenge ese otoño.
Completando el campo estaban Trace Dynasty, Queen of the Kartel, Olena Sangria y Mystical Jess.