RACING ESTA SEMANA
Additional Challenges

Current Nominees and Sustaining Payments
CARACTERISTICAS
SERVICIOS
Love To Reason Br (en la foto ganando en el hipódromo de Los Alamitos) obtuvo un lugar inicial en el ARC Distaff Championship Challenge (G1) de $125,000 el 26 de Octubre.

© Scott Martinez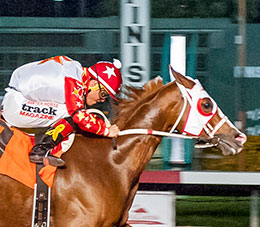 Love to Reason Br Sella Boleto Para El Campeonato ARC Distaff Challenge en Pocatello
POCATELLO, ID —15 DE SEPTIEMBRE DE 2019— El ganador de clásicos de grado, Love to Reason Br recogió un lugar en el Campeonato Challenge con una victoria en el Pocatello Downs ARC Challenge de $25,700 el Domingo por la tarde.
La yegua de 6 años fue montada por Jesús Canales en la victoria puerta a puerta. El tiempo final para el clásico en 400 yardas fue de 19.834, lo que le dio a Love to Reason Br un índice de velocidad de 105.
Love to Reason Br ($9.20) es entrenado por Jose Gomez para el propietario CMH Welding, LLC. Fue criado en California por Benny Rosset, por Good Reason SA y fuera de la yegua por Strawfly Special, Strength in Numbers.
Love to Reason Br tiene siete victorias en 24 salidas con $97,141 en ganancias profesionales. Ella ha competido en las carreras Challenge desde que tenía 2 años y ganó el Sun Downs Distaff Challenge a los 5 años. Ella es una ganadora de múltiples clásicos, incluyendo el Handicap de Las Damas (G3) en Los Alamitos en Noviembre pasado.
El segundo finalista, Duck Dash N Go, también es un ganador de clásicos de grado con varias apariciones en la carrera Challenge. Ella fue tercera tanto en Los Alamitos Distaff Challenge (G3) como en el AQHA Distaff Challenge Championship (G1) el año pasado y ha ganado múltiples clásicos. Monty Arossa entrena a Duck Dash N Go para el propietario Lex Fabrizio; Eric Ayala recibió la llamada el Domingo. La hija de 5 años de Coronas Fast Dash fue criada en Oklahoma por Bobby Cox, fuera de Duck Mea Running, por Tour De Kas.
Loco Ocho, favorito a la hora de arranque, completó la trifecta para el entrenador Garth Blatner. Jesús Valenzuela estuvo abordo para los propietarios y criadores Les y Darla Barlow. Loco Ocho fue criado en Idaho, por The Lousiana Cartel y fuera de la yegua ganadora de múltiples clásicos, Sign of Pride, por First Wrangler.
Loco Ocho entró en el clasicos del Domingo en busca de su quinta victoria consecutiva. Fue la primera aparición en una carrera Challenge para la potranca de 3 años.
Completando el campo estaban Royallittlewagon, Estelline, Kissin Kate Barlow y Look Secret. Betrothen y Wavin N Rich fueron borrados.