RACING ESTA SEMANA
CARACTERISTICAS
SERVICIOS
Jesse Yoakum, entrenador de Caballos Cuarto de Milla, falleció el 3 de Octubre.

© Coady Photography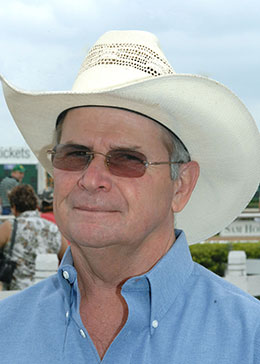 Caballista Jesse Yoakum Falleció el 3 de Octubre
Por Martha Claussen
HOUSTON, TX — 4 DE OCTUBRE DE 2019— El entrenador de Caballos Cuarto de Milla Jesse Yoakum falleció el 3 de Octubre después de una larga batalla contra fibrosis pulmonar. Tenía 69 años de edad.
Yoakum fue jinete antes de comenzar una carrera como entrenador que abarcó 30 años, Yoakum ensilló a 418 Caballos Cuarto de Milla ganadores con ganancias superiores a $3.2 millones. Entre sus mejores artistas estaban el ganador del Sam Houston Futurity (G1) Beduinos Rusty, el ganador del Sam Houston Classic (G2) A Glint Of Gold, el ganador del BF Phillips, Jr. Handicap (RG3) The Field Cricket y Hes Lil Bit high, Governor's Cup Marathon ( G3) ganador Doctor Streakin, ganador del Barnmaster Sprint Stakes (RG3) Turfinator, ganador del México Championship Challenge (G3) ganador Wholelata Dash, ganador del Classic Chevrolet Heartbeat of America (G3) Ronas Wind Dancer.
Corrió caballos en cada una de las pistas de carreras de Texas, pero tuvo varios hitos notables en Sam Houston Race Park. Además de ganar el Sam Houston Classic con su mayor ganancia, A Glint of Gold, condicionó a Wassup T Doc, quien fue honrado como Caballo de la Temporada en Sam Houston Race Park 2004. Juvenile Sarah Must estableció un récord a 350 yardas en Houston, que aún se mantiene.
Yoakum ensillo a Turbo Tex con el jinete del Salón de la Fama Pat Day a bordo en un evento benéfico especial en Sam Houston Race Park en 2004 llamado 'A Match Made in Heaven'. Era la primera vez que Day montaba un Caballo Cuarto de Milla. Después de la victoria, Day bromeó diciendo que se le había ordenado que no retomara Turbo Tex y que corriera tarde. Yoakum se deleitó al escuchar el comentario de Day.
El caballista de Texas Lewis 'Tooter' Jordan compartió sus pensamientos sobre el entrenador callado pero profundamente respetado.
"Jesse fue uno de los caballistas más conocedores que he conocido", dijo Jordan. "Era un verdadero entrenador 'práctico'; Cuidó mucho a sus caballos y los corrió donde pertenecían".
Jordan también le dio crédito a Yoakum por ser mentor de entrenadores prometedores. Uno de ellos fue Toby Keeton.
"Conocí a Jesse en Del Rio, Texas, cuando tenía 14 años", recordó Keeton. "Fue un gran mentor y se convirtió en un amigo de toda la vida. Jesse era un hombre de pocas palabras, pero muy buen caballista. Esta es una gran pérdida para nuestra industria".
Jordan también reconoció la relación entre Jesse y su único hijo, su hijo Jerry Lee, quien montó a la mayoría de los Caballos Cuarto de Milla de Yoakum.
"Tenían un vínculo muy sólido", dijo Jordan. "Formaron un gran equipo y siempre parecieron soportar los altibajos de las carreras".
"Mi papá me enseñó a montar cuando era muy joven", explicó Jerry Lee. "Nunca dijo demasiado, así que al principio no estaba seguro de cómo me estaba yendo. Finalmente, pensé que si él no decía nada, ¡significaba que lo estaba haciendo bien"!
"Quizás su caballo favorito era Beduinos Rusty", agregó Jerry Lee. "Ella ganó el (Grado 1) Sam Houston Futurity".
A Yoakum le sobreviven su esposa de 51 años, Sharon; hijo Jerry Lee y su esposa, Rosslyn, así como nietos, Jaycee Lee y Cody. Según sus deseos, no habrá servicios fúnebres. La familia solicita que en lugar de flores, se hagan donaciones al PDJF.
* * * * * * * * *
Martha Claussen fue directora de publicidad en Sam Houston Race Park durante diez años. Ella continúa siendo activa en la redacción y publicidad de carreras en Texas, Louisiana, Indiana, Oklahoma y otras regiones de América del Norte.