RACING ESTA SEMANA
CARACTERISTICAS
SERVICIOS
Las últimas Encuestas de Carreras AQHA no presentan ningún movimiento importante.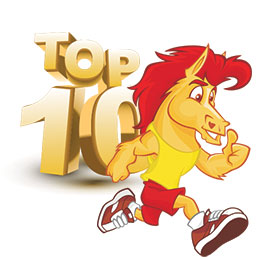 Cambios Mínimos en Encuestas Finales AQHA de Verano, Comienza Temporada de Campeonato de Otoño
ASOCIACIÓN DE CABALLOS CUARTO AMERICANO —26 DE SEPTIEMBRE DE 2019—
El calendario ha cambiado de verano a otoño, pero las últimas Encuestas de Carreras AQHA no presentan ningún movimiento importante, ya que Apocalyptical Jess continúa liderando las clasificaciones de caballos mayores y Mr Jess Jenkins nuevamente superó la encuesta de 2 añeros.
Mientras que Apocalyptical Jess, Castrado Campeón 2 Añero del año pasado y ganador del Ruidoso Derby (G1) de este año, ocupó el puesto número 1 en la encuesta de caballos mayores, la brecha se ha reducido entre él y Rustys Miracle en el numero 2. El segundo anotó en el All American Derby (G1) en Ruidoso Downs el fin de semana del Día del Trabajo y sigue a Apocalyptical Jess por solo dos puntos en la última encuesta. La encuesta dio la bienvenida a un recién llegado esta semana, ya que Mi Amor Secreto, ganador del Albuquerque Fall Championship (G1) de $300,000 el 22 de Septiembre, debutó en el número 9.
En la encuesta de 2 añeros, el ganador del All American Futurity (G1), Mr Jess Jenkins, se mantuvo alejado del No. 2 Uncle D, ganador del Rainbow Futurity (G1), y del No. 3 Mister Riptide, subcampeón en el All American. La única cara nueva en la encuesta juvenil fue One Flying Dynasty, quien entró en el puesto número 10, después de tomar el La Fiesta Futurity de $245,946 el pasado fin de semana en Albuquerque Downs.
Las cifras de Octubre traerán cambios a las encuestas, con numerosas carreras de Grado programadas para la primera mitad del mes en pistas que incluyen Los Alamitos, Lone Star Park y Zia Park, y luego el 26 de Octubre Albuquerque Downs será sede del Bank of America Challenge Championships.
RANKINGS NACIONALES, 3 AÑEROS Y MAYORES
APOCALYPTICAL JESS (78)
RUSTYS MIRACLE (76)
EAGLE COAST (60)
POWERFUL FAVORITE (51)
POLITICAL ATTRACTION (50)
BH LISAS BOY (44)
APOLLITICAL PENCE (28)
CDS WINE N DINE (23)
MI AMOR SECRETO (20)
KATIES EASY MOVES (16)
JESS MACHO CORONA (9), DANJER (6), TEQUILA SANGRIA (6), JESS SAYING (5), LD IS BACK (4), AS AND JS (3), EYE N CAPO (3), HE LOOKS HOT (3), SASSY ON FIRE (3), FIRST LADY PERRY (2), FLYING COWBOY 123 (2), ZOOMIN FOR SPUDS (2), CONQUERING MARIE (1).
RANKINGS NACIONALES, 2 AÑEROS
MR JESS JENKINS (87)
UNCLE D (79)
MISTER RIPTIDE (66)
UPTOWNE BABE (54)
FERNWEH (51)
TRUMP MY RECORD (44)
EC REVENGE (26)
DETERMINED ONE (16)
RUNAWAY SECOND DOWN (14)
ONE FLYING DYNASTY (9)
PERRYS SECRET (6), CERS FINAL TRY (5), EXPEDYTE (5), HONKY TONK DADDY (5), DONELLI (4), EASY BLINKERS (3), RELENTLESS DYNASTY (3), TF SHEZ JESS DASHIN (3), COLBY JAMES (2), MISTER MUCHO GUSTO (2), DF MISCHIEVIOUS JESS (1), MR DILLARD (1), SIR RUNAWAY CASH (1).
* * * * * * * * * * * * * * * * *
La integridad de las carreras de Caballos Cuarto Americano es de suma importancia para AQHA. Como parte de un esfuerzo multifacético para garantizar la integridad, AQHA ha instituido una política sobre premios y publicidad que hace que los caballos con medicamentos positivos de carreras y los caballos entrenados por entrenadores con medicamentos positivos de carreras no sean elegibles para las Encuestas Nacionales de Carreras AQHA. HAGA CLIC AQUÍ para leer la política completa.
* * * * * * * * * * * * * *
AQHA Noticias e Información es un servicio de la Asociación de Caballos Cuarto Americano. Para obtener más noticias e información, siga @AQHARacing en Twitter, mire el AQHA Racing Newscast y visite aqha.com/racing.