RACING ESTA SEMANA
CARACTERISTICAS
SERVICIOS
El ganador de Clásicos Hopelblue (# 3) es uno de los 22 aspirantes que irán a las puertas en las pruebas para el Wild West Futurity el Domingo por la noche en el hipódromo de Los Alamitos.

© Scott Martinez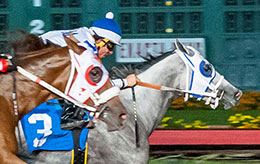 Tres Pruebas para el Wild West Futurity el Domingo por la Noche
LOS ALAMITOS, CA — 26 DE SEPTIEMBRE DE 2021—
Veintidós juveniles estarán en acción en las pruebas del Wild West Futurity esta noche (Domingo) en Los Alamitos encabezadas por una revancha entre Hopefulblue y Zoomin For Trix, quienes terminaron 1-2, respectivamente, en The Plan Handicap el 4 de Septiembre.
Se disputarán tres pruebas a 350 yardas y se han calificado como las últimas tres carreras en la tarjeta de 10 carreras. Los caballos con los 10 tiempos más rápidos en las pruebas avanzarán a la final del Wild West el Domingo 17 de Octubre.
Entrenada por Matt Fales para la propietaria Martha Wells, la potranca gris Hopefulblue fue tremenda al ganar The Plan de puerta a puerta, volando fuera de las puertas y manteniendo a raya a Zoomin For Trix, quien llegó aquí después de ser tercera en el Bitterroot Futurity de $119,000. Zoomin For Trix tropezó en la salida y buscará mejorar en su segunda salida local.
Otros corredores importantes en las pruebas incluyen al finalista del Bitterroot, Harts Hero, que se unirá a Hopefulblue y Zoomin For Trix en la serie de apertura, además de Mister Bigg, que fue tercero en The Plan y ahora lidera la segunda prueba. La prueba final estará encabezada por Rayshas Kidd Trax, quien fue tercero en el Wyoming Futurity de $78,000 el mes pasado.
* * * * * * * * * * * * * *
Para obtener más información, comuníquese con larace@losalamitos.com. Síganos en Twitter o Instagram en @losalracing o visítenos en línea en www.losalamitos.com.