RACING ESTA SEMANA
CARACTERISTICAS
SERVICIOS
Home
>
Preview Racing
>Thru My Eyes Encabeza Pruebas para AQRA Turf Paradise Open Spring Futurity
Turf Paradise albergará seis pruebas el Martes para el AQRA Turf Paradise Open Spring Futurity a 300 yardas.

© Coady Photography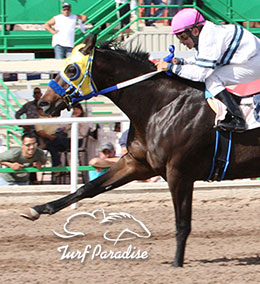 Thru My Eyes Encabeza Pruebas para AQRA Turf Paradise Open Spring Futurity
POR MICHAEL CUSORTELLI
PHOENIX, AZ — 1 DE ABRIL DE 2021— Un total de 56, 2 añeros entraron a las pruebas a 300 yardas para el AQRA Turf Paradise Open Spring Futurity el Martes en Turf Paradise.
Thru My Eyes, un potro entero hijo de Fly Thru The Fire propiedad de José Aguilar Mendoza, saldrá de la posición numero 9 y será montado por McKenzie King para el entrenador Eloy Navarro en la cuarta de seis pruebas. Thru My Eyes, una compra como añal por $9,000 en la Venta Equina Los Alamitos del año pasado, hizo su debut con una clara victoria por 2 y 3/4 de cuerpo en una carrera maiden de peso especial a 250 yardas en Turf Paradise el 18 de Marzo.
Fly Thru The Fire es actualmente el padre líder en primera camada número 1 de ganadores en 2021. El hijo de Walk Thru Fire tiene cuatro ganadores de 11 arrancadores.
Tresponte, un hijo gris del padre líder número 3 en primera camada de ganadores de dinero 2021 Duponte, entrenado por Navarro para Mendoza, hará su debut de carrera desde la posición numero 10 y será montado por Héctor Aldrete en la quinta carrera. Una compra por $75,000 en la Venta de Añales Heritage Place el año pasado en Oklahoma City, el potro entero es hijo de Senorita Tres, una hija ganadora de Grado 3 de Tres Seis, y es media hermana de ganadores de clásicos Politicaly Correct y Brookestone Gray.
El entrenador Eric Valenzuela enviará al arrancador por primera vez Fdd Fling para los propietarios Ronald L. Sugamosto, Diamond Racing Stables y Wi Taiaroa. Una compra de $47,000 en la Venta Selecta de Añales de Ruidoso el año pasado, el potro entero hijo de FDD Dynasty y de la yegua Higher Fling, una hija ganadora de campeones Mr Jess Perry y Higher Fire, media hermana de ganador del 2017 All American Futurity (G1) Fly Baby Fly.
Fdd Fling saldrá de la posición numero 2 y será montado por Adrian Ramos en la segunda prueba.
Los 10 clasificados más rápidos se enfrentarán en la final del AQRA Turf Paradise Open Spring Futurity de $17,500 el 28 de Abril.
Todas las carreras de Turf Paradise se pueden ver en Q-RacingVideo.com.