RACING ESTA SEMANA
CARACTERISTICAS
SERVICIOS
Home
>
Preview Racing
>Uptowne Babe, Ganador del 2019 Heritage Place Futurity, Busca Primer Triunfo Derby En Remington
Uptowne Babe, ganador del Heritage Place Futurity (G1) de $1,000,000 de 2019 en Remington Park, intentará ganar el Oklahoma Derby de $232,586 el Sábado por la noche en Oklahoma City.

© Dustin Orona Photography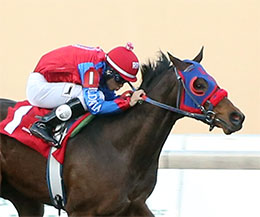 Uptowne Babe, Ganador del 2019 Heritage Place Futurity, Busca Primer Triunfo Derby En Remington
OKLAHOMA CITY, OK — 21 DE MARZO DE 2020
— Uptowne Babe ganó la carrera más grande de la temporada Cuarto de Milla en Remington Park el año pasado: el Grado 1, Heritage Place Futurity de $1 millón. El Sábado por la noche, intentará ganar su primera gran carrera a los 3 años.
Uptowne Babe intentará completar su regreso el Sábado por la noche en la séptima carrera con una tarjeta de 10 carreras, intentando derribar el Grado 3, Oklahoma Derby de $232,586 a 350 yardas. La parte de regreso incluye casi 11 meses de descanso desde su mayor victoria cuando terminó antes del Campeón de 2 añero de AQHA 2019, Uncle D, en el Heritage Place Futurity. Uptowne Babe fue criado en Oklahoma por el propietario, Sam W. Green de Monett, Mo.
Después de mostrar el tipo de habilidad que puede llevar a un caballo a la estratosfera de las carreras Cuarto de Milla, el entrenador Guillermo Valdivia decidió salvar a Uptowne Babe para las pruebas hacia el All American Futurity en Agosto en Ruidoso Downs, NM. Mientras estaba siendo ensillada para su prueba que podría antes de llegar a las finales de $3 millones, lanzó un ataque en el paddock, se dio la vuelta y se golpeó la cabeza y la pata trasera izquierda. No volvió a competir hasta sus pruebas hacia el Oklahoma Derby el 8 de Marzo, cuando ganó por un pico para clasificarse para la final. El esfuerzo de prueba ganador no estuvo cerca del tiempo más rápido de las pruebas.
Uptowne Babe, montada por su jinete habitual Rolando Raudales, cubrió las 350 yardas en: 18.101, bueno para un índice de velocidad de 89. Se convirtió en una tibia tercera favorita con probabilidades de 5-1 en la línea de la mañana, detrás de Ivory Turbo, quien está 5-2. Ese caballo castrado de 3 años terminó en: 17.82 con un 96 para la entrenadora Michelle Hurdle, bajo el mando de Agustín Silva. Es propiedad y fue criado por Tom y Kathleen McNally de Guthrie, Okla.
Uptowne Babe es una potranca de 3 años por Mr Jess Perry , desde la yegua por FDD Dynasty, Ms Southern Dynasty. Ivory Turbo es un hijo castrado de Ivory James , desde la yegua por Rare Form, Mt Turbo.
El campo completo por posición de publicación y orden del programa para el Oklahoma Derby, con entrenador, jockey y probabilidades en la línea de la mañana:
Fantsy First Down: Manuel Rodriguez, James Flores, 12-1
FMM Rocking Cartel: John Foutch, Gonzalo Gutierrez, 15-1
Gonnawannakissthis: Jonathan Chavira, Daniel Torres, 12-1
Astranomical: Stacy Charette-Hill, Jorge Torres, 15-1
Aint Working: Monty Arrossa, Raul Valenzuela, 8-1
Uptowne Babe: Guillermo Valdivia, Rolando Raudales, 5-1
Ivory Turbo: Michelle Hurdle, Agustin Silva, 5-2 (morning-line favorite)
Ritas Back On Track: Eddie Willis, Justine Klaiber, 8-1
Love Is Everything V: Eddie Willis, Jimmy Brooks, 4-1
Sir Runaway Eye: Josue Ponce, Mario Delgado, 10-1
El primer mensaje del sábado es a las 6 p.m.-Central. La tarjeta de barril también incluye el Grado 2, $ 383,725 Oklahoma Futurity, el futuro de carreras más antiguo en la historia de American Quarter Horse racing, es la octava carrera en un programa que se llevará a cabo sin espectadores públicos.
El campo completo por posición de arranque y orden de programa para Oklahoma Futurity, con probabilidades, entrenador, y jockey:
Royal Tales LBH: Manuel Rodriguez, Mario Delgado, 15-1
Ferrari B: Rex Brooks, Juan Pulido, 12-1
My Blue Heart: Josue Ponce, Jose Alvarez, 10-1
Aint She Tempting: Monty Arrossa, James Flores, 10-1
Cartels Dynasty: Monty Arrossa, (jockey to be named), 6-1
Jess Kiss Me: Guillermo Valdivia, Rolando Raudales, 5-1
Coronados Lady: Jonathan Chavira, Daniel Torres, 12-1
Seven Tales: Mary Meza, Agustin Silva, 5-2 (morning-line favorite)
Relentlessly: Jose Huerta, Rafael Hernandez, 7-2
High Rate Dee Dee: Guillermo Valdivia, Armando Ramirez II, 15-1

El Oklahoma Futurity encabeza una tarde de carreras clasificadas, que incluyen:

Carrera 4: Grado 1, $ 61,100 Speedhorse Graham Paint / Appaloosa Derby, 350 yardas
Carrera 5: Grado 1, $ 180,100 Oklahoma Paint / Appaloosa Futurity, 300 yardas
Carrera 6: $ 50,000 Oklahoma Juvenile, 300 yardas
Carrera 9: Grado 2, $ 50,000 Eastex Stakes, 350 yardas
Carrera 10: Grado 2, $50,000 Decketta Stakes, 350 yardas

* * * * * * * * * * * * * *

Rastreado por más de 162,000 fanáticos en Facebook y más de 10,100 seguidores en Twitter, Remington Park ha proporcionado más de $242 millones al fondo de educación general del estado de Oklahoma desde la apertura del casino en 2005. Ubicado en el cruce de Interstates 35 & 44, en el corazón del Distrito de Aventuras de la Ciudad de Oklahoma, Remington Park organizará la Temporada 2020 de carreras Cuarto de Milla, Pintos y Appaloosa del 6 de Marzo al 30 de Mayo. Para obtener más información, reservas y reservas de grupos, llame al 405-424-1000, 866 -456-9880 o visite remingtonpark.com .