RACING ESTA SEMANA
CARACTERISTICAS
SERVICIOS
El ganador del The Plan Handicap, Zoom On Jess, encabezará cuatro pruebas para el Wild West Futurity de $117,150 el Domingo en Los Alamitos.

© Scott Martinez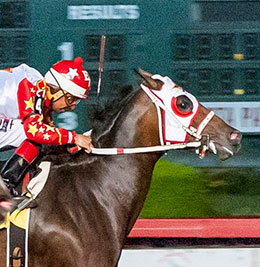 Grupo Talentoso se Enfrenta en Pruebas para Wild West Futurity
LOS ALAMITOS, CA — 4 DE OCTUBRE DE 2019—
Zoom On Jess de Gary y Jeralyn Messenger, el ganador del The Plan Handicap aquí el 7 de Septiembre, encabezará la segunda de cuatro pruebas para el Wild West Futurity de $117,150 el Domingo en Los Alamitos. El horario de primera publicación es a las 6:10 pm (PDT).
El Wild West Futurity cuenta con Caballos Cuarto de Milla 2 añeros que han corrido en las regiones Intermountain y Northwest, además de Arizona, Nevada y Canadá. Los ganadores anteriores incluyen el ganador del Campeón de Campeones 2016 y AQHA Campeón Zoomin For Spuds y ganador de carreras de Grado 1, Dash For Dylan.
Veintiocho juveniles estarán en acción en las pruebas a 350 yardas el Domingo con los caballos con los 10 tiempos más rápidos avanzando a la final del Wild West el Domingo, 27 de Octubre. La lista de caballos en las pruebas incluye seis que previamente han ganado un futurity o consolation en las regiones mencionadas.
Entrenado por Monty Arrossa, la victoria clásica de Zoomin For Jess llegó en Los Alamitos cuando superó Old School Icon en The Plan a 350 yardas. Los dos se enfrentarán nuevamente en la segunda prueba. Zoomin For Jess, un criado en casa en Idaho hijo de Jess Zoomin, ganó el Idaho Cup Futurity en Sandy Downs antes del The Plan.
Old School Icon de Martha Wells terminó tercero en el Desert Classic Futurity de $41,800 antes de su llegada a California. Senor Frogs de Freddy Ibarra es otro para ver en la prueba número dos. El hijo de Corona Cartel ganó el $37,950 Grants Pass Firecracker Futurity el 4 de Julio y luego terminó segundo en las apuestas del Emerald Downs Juevenile stakes a fines de Agosto. Lindolfo Díaz ensillará al criado en Oregon el Domingo por la noche.
La prueba de apertura estará encabezada por KVN Little Sister de McColee Land & Livestock LLC, una hermana completa del campeón AQHA y ganador de carreras de Grado 1 KVN Corona. La potra criada en Utah ganó el $23,500 Utah Bred Futurity en Wyoming Downs antes de quedar en cuarto lugar en The Plan hace un mes. John Carter Cash de Nick Lowe, ganador del Pot O 'Gold Futurity en Sun Downs el 12 de Mayo, también competirá en esta prueba.
La tercera prueba estará encabezada por Jess Tellin Tales, de Cameron y Lean Mulrony, ganadora del Rocky Mountain Spring Classic Futurity en Pocatello Downs. La potra hija de Wagon Tales se ve excepcional en su debut en Los Alamitos, ganando una carrera allowance aquí por uno y tres cuartos de cuerpo para Arrossa y el jinete Armando Cervantes.
La prueba final es un evento abierto encabezado por La Reina Madre de Butch y Stephanie Webb, tercera en el Rocky Mountain Futurity de $90,000 en Arapahoe Park, y CM Singing The Blues de Randy Dickerson, subcampeón en el John Deere Juvenile Stakes aquí el 17 de Agosto.
* * * * * * * * * * * * * *
Cortesía de www.losalamitos.com.