RACING ESTA SEMANA
CARACTERISTICAS
SERVICIOS
Kj Frankie B (# 3), bajo el jinete Noe García, Jr., derrotando a Tlc Signature (# 1) y Flying Afar (# 4) en el Grado 2, Lovington Stakes de $50,000 el Domingo por la tarde en Zia Park.

© Coady Photography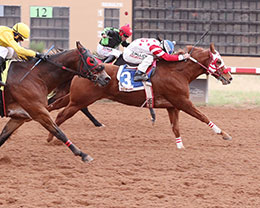 Kj Frankie B Obtiene Primera Victoria de Tipo Negro en Grado 2, Lovington Stakes en Zia Park
HOBBS, NM — 21 DE NOVIEMBRE DE 2021—
Frankie B, bajo el mando del jinete Noe García, Jr., corrió para ganarle por cuello a Tlc Signature para obtener su primera victoria clásica en el Grado 2, Lovington Stakes de $50,000 el Domingo en Zia Park. Flying Afar estuvo otro cuello hacia atrás en el final apretado para quedar tercero.
El castrado de 4 años corrió sobre 400 yardas en: 19.235 segundos, lo que equivale a un índice de velocidad de 103 con un viento de cola de 14 mph. Fue la quinta victoria en su carrera para el criado en casa de Arizona y el bolso ganador de $30,000 aumentó su marca de ganancias a $163,440.
El entrenador Wesley Giles acondiciona al hijo criado en casa de Apollitical Jess para los dueños John y Kathy Lee y Ruben Mares. John y Kathy criaron a Kj Frankie B de la yegua hija de Ivory James, Xquizit.
Las conexiones ganadoras de Kj Frankie B aceptan el trofeo del Lovington Stakes el Domingo por la tarde en Zia Park.
© Fotografía Coady
Finalista en el Grado 1, Texas Classic Futurity y Derby, Kj Frankie B también fue segundo en el West Texas Derby (G3) y tercero en el Downs at Albuquerque Championship Challenge.
El subcampeón Tlc Signature falló bajo el jinete Paul Nieto, ganando $10,000 por su esfuerzo. Omar Vargas entrena al hijo de 4 años del padre campeón The Louisiana Cartel para el propietario Emilio Pérez. Bob y Jerry Gaston criaron Tlc Signature de la yegua hija de Heza Fast Dash, Sheza Rusty Lady. Ha ganado $102,215.
El tercer clasificado, Flying Afar, corre para el propietario Gerardo Arroyo y es entrenado por Diego Arroyo. Héctor Aldrete montó al hijo de Stel Corona, criado en California, de la yegua Jetsetter Walk Thru Fire. Edward C. Allred crió al castrado de 5 años que ganó $5,000 por el esfuerzo.
Mitey Political, Echo Of Thunder, Hotsempting, Walcott, First Apollo Moon, First Neon Moon y Uncurled Fist completaron el campo.
Todas las carreras de Zia Park se pueden ver en Q-RacingVideo.com.