RACING ESTA SEMANA
CARACTERISTICAS
SERVICIOS
El dos veces ganador de clásicos, Eazy Street, bajo el mando de Tony Phillips, gana la decimonovena carrera del Alex Picov Memorial Futurity en Ajax Downs el Lunes por la tarde.

© New Image Media / Clive Cohen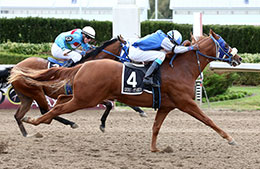 Eazy Street Permanece Invicto Ganando Alex Picov Memorial Futurity
AJAX, ONT — 7 DE OCTUBRE DE 2019—
El calificador más rápido, Eazy Street, volvió a sintonizar el Lunes para derrotar a A Lone Hand por medio cuerpo en el prestigioso Alex Picov Memorial Futurity en Ajax Downs. Sweet Night terminó otro medio cuerpo atrás en tercer lugar.
Montado por el jockey Tony Phillips, Easy Street logró un perfecto 4-por-4 mientras completaba las 400 yardas en: 20.650 segundos con un viento cruzado de 13 mph. El bolso de los ganadores de $20,502 eleva el presupuesto del alazán a $49,484 en el año.
Bryn Robertson condiciona al hijo de Mighty B Valiant para los propietarios Carol y Jaime Robertson. Criada en Ontario por Guylaine Paquin, Easy Street está fuera de la yegua por Holland Ease, Easy Holland. También ganó el Ontario Bred Futurity en Julio pasado.
Las conexiones ganadoras de Eazy Street aceptan el trofeo del Alex Picov Memorial Futurity el Lunes en Ajax Downs.
© New Image Media / CliveCohen
El subcampeón A Lone Hand recogió $10,251 (US) por terminar segundo. El hijo de Azure Down Three, compite para el criador propietario James Bogar y está condicionado por el entrenador Barry Wood.
Brian Bell montó al 2 añero desde Special Royal Takeon por Strawfly Special . Con una ganancia de $31,440, también fue subcampeón en el Ontario Sires' Stakes Futurity el 25 de Agosto.
Todavía Maiden en cuatro salidas este año, Sweet Night Fever ganó $5,125 por su tercer puesto. Cory Spataro estaba a bordo del hijo criado en Iowa de Sweet First Down. Propiedad de y entrenado por Craig Spada, el caballo negro está fuera de Do Ya Disco por Disco Jerry (TB). Erin Chrisman es el criador.
Silken Siri, Sw Artemisia, Jess Carolinas Award, Cc Senator Page, Rowdy And Bodacious, Hidden Memory y Sw I Am Kool completaron el campo.
* * * * * * * * * * * * * *
¿Quieres saber más sobre las carreras Cuarto de Milla en Ontario, compartir la propiedad de uno de estos grandes atletas? Visite Quarter Racing Owners Of Ontario en qrooi.com, ajaxdowns.com o siga a Ajax en Twitter (@AjaxDowns), Instagram y Facebook.
Siga a Ajax Downs en Twitter (@AjaxDowns) e Instagram y Facebook para mantenerse al día con noticias de carreras, eventos semanales y concursos. Consulte con nuestro sitio web en ajaxdowns.com .