RACING ESTA SEMANA
CARACTERISTICAS
SERVICIOS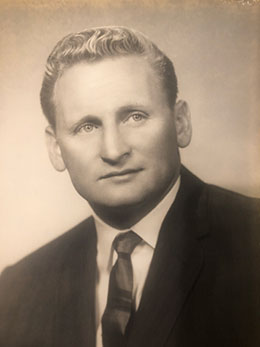 © Courtesy Morse Family

Fallece Caballista Veterano, Judd Morse
GRANT, OK — 20 DE ENERO DE 2021—
La industria de las carreras de Caballos Cuarto de Milla está de luto por el fallecimiento del caballista veterano Loren 'Judd' Morse, quien falleció pacíficamente rodeado de su familia en Grant, Oklahoma a la edad de 91 años el 21 de Diciembre de 2020.
Inicialmente nativo de Rochester, Nueva York, Morse se convirtió en un destacado caballista en las filas de Caballos Cuarto de Milla durante sus días de entrenamiento en el hipódromo de Los Alamitos .. Mas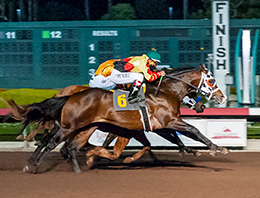 © Scot Martinez

Stolen Lives Le Da A Kessinger Su Primera Victoria Desde 2014
LOS ALAMITOS, CA — 15 DE ENERO DE 2021—
Lila Kessinger disfrutó de su primera victoria en Los Alamitos desde 2014 después de que Stolen Lives, un caballo de 4 años que es copropietario con Jo Burns, superó a Fayvorite Chick de Martha Wells por una cabeza en el Cypress Handicap de $20,000 el Viernes en Los Alamitos.
Montado por Cruz Méndez para el entrenador Mike Casselman, Stolen Lives chocó al principio pero se recuperó rápidamente para unirse a los líderes antes de terminar con fuerza en esta carrera de 350 yardas. Stolen Lives c .. Mas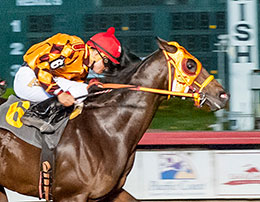 © Scott Martinez

Dos Divisiones de Wayne Brasher Memorial Stakes Programadas Para El Viernes
POR MICHAEL CUSORTELLI
PHOENIX, AZ — 12 DE ENERO DE 2021— Senor Frogs, un hijo ganador de clásicos de Coronado Cartel propiedad de José Aguilar Mendoza, hará su debut en la temporada de 4 años en la segunda división del Wayne Brasher Memorial Stakes de 250 yardas y $12,500 en Turf Paradise el Viernes.
Senor Frogs acortará la distancia de su victoria en 440 yardas y de $40,000 en Casino at The Downs Stakes en Albuquerque Downs el 24 de Octubre. El castrado bayo atravesó el poste .. Mas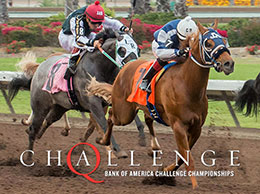 © Scott Martinez

Challenge Agrega Clásicos Regionales, Inscripciones al Programa se Deben el 31 de Diciembre
Q RACING — 28 DE DICIEMBRE DE 2020—
El programa Bank of America Racing Challenge ofrece a los caballos inscritos en el Challenge más oportunidades de competir en varias categorías en hipódromos de todo el mundo.
Al final del año, los caballos calificados están invitados a asistir al Bank of America Challenge Championships, que en 2021 .. Mas